Officially speaking, spring will start at the end of this month, therefore, we'll have to change the clock next week for daylight saving time (YAY). I'm then taking this opportunity to introduce you to my favourite spring and summer trends perfect for the seasons of revival loved by all.
Embroidered denim.. and everything embroidered

We've seen it more and more in stores, embroidered denim which is in trend; whether it's a jacket or on a pair of jeans… it's everywhere! I personally LOVE or perhaps I should say NEED a pair of jeans like these ones found at TopShop. Here's an alternative if you don't wish to pay a salty price for a similar pair, simply buy patchs and apply them on your piece of clothing. ( Here's an idea!)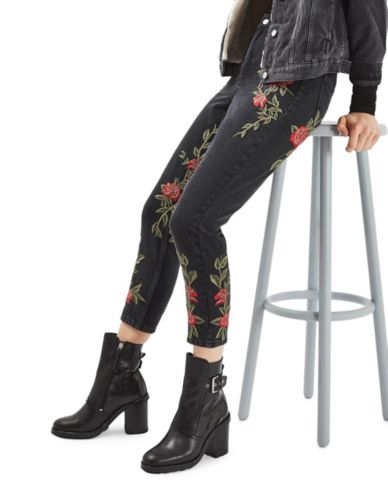 Source: Hudson's Bay
If you're into embroidered details but less on denim, know that there are tons of fabrics and textures with that detail available on the market. You won't be disappointed.
Source: Zara
Off-the-shoulders

Slight comeback of last year's trend. I personally would rather wear the first model seen below. There's a newcomer which is a high neck version with hole at the shoulders such as this Branson top from Mélissa Nepton. Looks great, but not on me though. Which one do you like best?

Source: GAP

Source: Mélissa Nepton
Yellow

A real colour can be seen from afar and can also make you look like the sun. Little trivia fact: back when I was in high school, I used to wear a school uniform. I got as a gift from my first boyfriend (little shout out) the infamous American Apparel hoodie that everyone has in CANARY YELLOW! I'd wear the latter over my school uniform everyday as soon as spring started. Let's just say that you could see me from a mile away…that little duckling walking on the other side of the street, that was me. That say, I love this intensified vitamine colour even if I wouldn't wear something like this on a daily basis (in fact, I don't think I've ever own another yellow piece of clothing of this kind aside of my hoodie. Perhaps things will change once spring comes at once!)

Source: Zara
Playful sleeves

This year, the sleeves are under the spotlight. From the craziest styles from puffy, wide, loose, open, etc. We love sleeves that are quite out of the box which makes the focal point of your outfit. I'm honestly obsessed with this look:

Source: Zara
An XXL white blouse

During GAP, Banana Republic and Old Navy's spring summer collection preview, I fell in love with this shirt dress with beautiful embroidery details. It's not yet available, but will soon be at Banana Republic. Love at first sight!
Tropical patterns

Each summer we see some prints and patterns that have made their comeback. Well this year, the spotlight will shine on tropical style prints: exotic flowers, banana leaves, etc. I'M SOLD on colorful pieces this spring and most importantly, for the love of god, dare to wear printed trousers. It works with any kinds of basic tops and will truly upgrades the whole outfit. These are available at Old Navy (yes, you read right).