Last weekend we changed the time as we moved the clock forward… meaning summer is upon us: FINALLY! Who says springs says June which inevitably says graduation and prom. Any students, whether you're finishing high school, you're an undergrad or finishing grad school has always dreamed of this event that will be one to remember!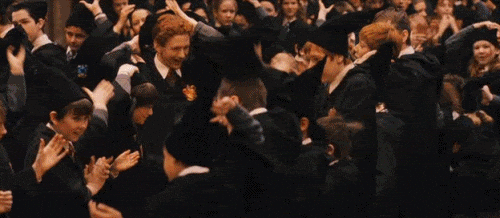 Source : giphy.com
Several styles are available: the princess gown, you know, that Cinderella dress. A medieval style that looks as it was inspired from Robin Hood. A classic black one with a gothic side à la Cruella. Fashionista style fifth Avenue edition or the classic timeless refined gown or even a bohemian style Jessa would wear in Girls. The most important thing here is to educate yourself on the type of venue your school will have (is it at the school's cafeteria or at the Marriott? Some details will guide you to make the best choice on your dress. Also, ask your classmates what they're thinking of wearing… that too will give you some great tips on what you should aim for.
As for you guys, the timeless classic suit is obviously your best ally. With a tux, you'll probably be the winner of the most overdressed attendee (but if you wear it with all the confidence in the world, I mean… why not?) You can go for the classic 5-piece suit, just remember that navy blue is the same as black and won't look too formal as a black one usually does. Or else, if you feel a tad more eccentric, a Pierre Lapointe inspired jacket might look on point!
Here are some looks that might give you some much needed inspiration before you go dress/tuxedo shopping:
Over the top

Of an exemplary elegance, you'll look like a star walking down the red carpet in this amazing two piece ensemble.
Source : labaie.com
Glamorous and refined, you'll look like a princess. This lace gown will also charm your prince -if you have one.
Source : revolve.com
Want to be crown queen of the ball?
Source : labaie.com
Medieval

UNTTLD is a Montreal label founded by José Manual St-Jacques and Simon Bélanger. This dress enhanced with those laces will give a current look to this medieval inspired style.
Source : simons.ca
Gothic

Original dress by Alexander McQueen will obviously make some heads turn. For those who wish to opt for a non-conventional look… this will look major.
Source : simons.ca
Fashionista

This BCBG dress is a show stopper all thank to the transparency detail of the tulle skirt.
Source : bcbg.com
This flamboyant maxi yellow dress is perfect if you're ready to party.
Source : bcbg.com
Two pieces worth of Carrie Bradchaw. Just need a cosmo and you're all set.
Source : labaie.com
Classic Lady

Ankle length dress with lots of pleating which looks chic and timeless… nothing beats looking unique and natural.
Source : bcbg.com
This über feminine dress from BCBG will ensure you get a killer silhouette from head to toe.
Source : bananarepublic.ca
Boho-chic

Flowy look from Simons, this dress will give you a chic and casual look all thanks to its upper part and embroidered stripes.
Source : simons.ca
Another one from BCBG in a floral pattern. Looks like you'd be walking on the clouds.
Source : bcbg.com
As for you my friends… do you wish to be crown king of the ball?
Source : simons.ca
Something trendy and current.
Source : simons.ca ; simons.ca
Till then, might as well watch iconic movies about proms: Footloose, Grease, American Pie, 10 things I hate about you!