I am a little a fanatic of decoration, maybe did you know already? I recently had some time to navigate cheerfully on Pinterest, what created in me a full need regarding decoration and it is true even if I own already too many things at home. Here are my 5 favourite pieces which I would like to add to my home decor in 2017:
1. Hammock chair
I go crazy over the ideal of having a chair suspended on the cealing in my living room. I randomly stumble upon this one from Ivory & Deene, made in Tasmania. It was amazing, and inspires relaxation, for me the idea of having a hammock reminds me of a holiday and I love the bohemian aspect it brings.

Source: Ivory & Deene
2. A shelf scale inspired filled with plants
Even if I don't have the human touch with my plants (I'm getting better) and mine dies pretty much one after the other (I mean the last ones lasted for over a year!), I love the idea of having a leafy spot and have a special spot for them, even more that it allows to bring light and it obviously looks way better. If you have any clue when I can get my hands on this kind of shelf, please do tell!
Source: Lobster and Swan
3. Customized light box
I love the idea of created a neon lamp with a customized message even if I have no clue what I would write. We can find them on Amazon and it comes with a lot of letters so that we can change the message whenever we want. At 60$, we can say it isn't too affordable but still not that expensive. I would order one for sure.
Source: Burkatron
4. A relaxing reading area
In my resolutions I think I wanted to read at least a book per month this year. In order to do so, I wish to have a cozy reading area where I could snuggle in my blanket and read for hours. The most important thing here is to have light, that the setting needs to be comfortable and also cute: ideally in an isolated area. I hope one day I'll be able to create a space like this one: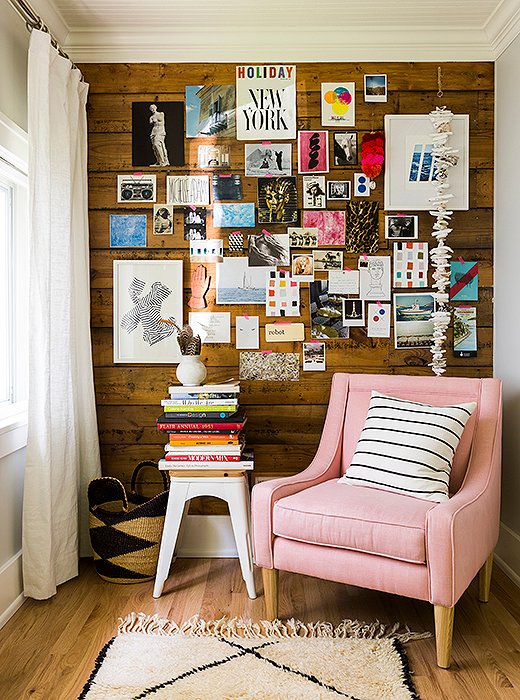 Source: Lesley Unruh
5. Textured wall paper
Tapestry, as we call it, had for a long time bad press, but personally, I often had a deep love for wall wallpapers. There are some available with photos for a more realistic effect (a forest, beach, etc.) and others with textures there which give a luxurious hyper effect, as this one with a marbled effect. I find it amazing to use it as a focal point on a whole wall in a room. Do you also like? Only downside: pretty darn expensive depending on the size of your room.
Source: Lonny.com